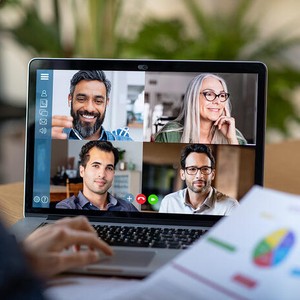 Manage and Motivate a Remote Sales Team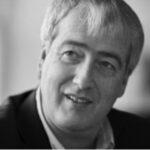 Cluster, The Innovation Brokers are currently hosting a series of virtual coffee breaks designed to provide a forum for discussion amongst senior executives during this period of lockdown.
We were invited to kick the series off by exploring the challenges and opportunities around managing and motivating sales teams remotely.
If you missed the first session, here's a comprehensive summary of what was discussed, written by Andrew Simmonds, Director, Clustre
The topic for this first session was: 'How to use AI, behavioural science and gamification to manage and motivate a remote sales team' and our guest speaker was Simon Wheeldon, Chief Customer Officer at CloudApps.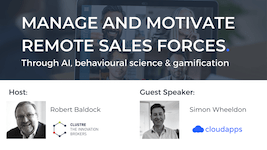 Would you prefer to watch the webinar instead?
Go ahead and access via our resources page or click on the button below.
Don't sell, first ask how you can help
Simon began the call by talking about some of the unique challenges presented by these difficult times. In particular, how to sell and, indeed, whether to sell at all: this is clearly a time to be asking clients how you can help, rather than whether they want to buy your products.
CloudApps themselves have switched to working from home full time and are finding they're busier than ever, working even more closely than usual with their customers, helping sales teams make this very sudden shift to working from home.
They've seen some initial excitement at the novelty of working from home, quickly giving way to a level of anxiety and loneliness. So, their focus has been on finding ways to help as much as possible, both at the individual and managerial level.
A shift to leading indicators
One immediate consequence of the current circumstances, in which revenues (the traditional lag-indicator of sales performance) are suppressed, is a rapid acceleration in the shift to measuring leading indicators of sales performance. These are KPIs such as the number and quality of opportunities coming into the pipeline; the number of leads followed-up; time to close; customer success; customer loyalty etc.
Really forward-thinking sales managers are taking this one step further to see how they can understand and drive the behaviours that drive these leading indicators (i.e. things you do, rather than just things you measure). These are behaviours like: putting in the customer calls to ask how you can help; following up on your leads; researching your competitors etc.
Of course, to do this effectively you need the data. There's a powerful analogy here with the way data is used to drive performance in sport. This is the heart of the CloudApps approach, helping organisations maximise their investment in Salesforce by extracting the data that gives sales managers the intelligence they need to drive the performance of their teams.
Start with competitions that drive the right behaviours
The key focus right now is motivating sales teams that are working remotely. One way to do this is by running competitions wrapped around the right sales behaviours. For example:
Vodafone's 350 strong digital sales team in Ireland, who are used to working in an extremely communal environment, are now all working from home; they are participating in daily and weekly competitions which are helping to maintain engagement.
These competitions are usually around a combination of KPIs and behaviours. CloudApps often start by drawing a mapping that shows which behaviours drive which lead-indicators which drive which lag-indicators. You can then pick half-a-dozen or so of the key behaviours to really get the focus and control you want.
By gamifying these behaviours (which might be things like putting in the "can I help you?" call to your customers) you can really help to motivate salespeople who might otherwise be struggling to maintain a sense of self-worth because they're falling short of their (lag-indicator) revenue targets. You can also include a few fun themes that might make working from home more enjoyable.
Measure, test and use AI
Many companies are naturally falling back on measuring what their people are doing, and when they are doing it – which can provide a great foundation for coaching them, as long as you are cognisant that some people will be finding this quite difficult.
People are also being highly creative, coming up with new ways of working. These ideas need to be tested: if you shift behaviour in this particular way, does it have the right impact? In this way, you can keep the good ideas and weed out the ones that are not working.
Another challenge companies are experiencing right now, is how to focus limited, and in some cases very much reduced, resources on the best opportunities. Again, the data is there in the CRM systems. AI can find patterns in what has worked well before that will help you focus your resources in the most effective way.
Towards the end of the call, the discussion moved on to what are the right things to be doing and measuring right now. The best approach is probably to focus measurement around the business context, rather than the basic activities. So, measure whether people have followed up their leads, rather than how many emails they've written or phone calls they've made. (On this last point, it was observed that many potential customers are quite possibly sitting at home right now and would be glad of a phone call.)
There is also the question of how to prioritise activities and opportunities and the extent to which potential customers are becoming saturated and annoyed by COVID-19 related sales messages. The general consensus was neatly encapsulated by one participant who said his company has moved from "always be closing" to "always be helping". This is definitely a time to be asking your clients, genuinely, how can I serve you?
Let us help you to motivate your sales team
To help unify dispersed sales teams and maintain productivity and morale CloudApps are offering their Motivation platform and associated services free for 3 months. Let us help you to motivate your remote sales team.
The support package will be made available to teams of over 25 reps and includes:
The Sales Effectiveness Engine (Sales Motivation and Gamification)
A competition builder including a large number of prebuilt 'sales behaviours' to choose from.
Installation Guidance (with 30 mins online meeting support)
Competition Setup (with 60 mins online meeting support)
Email support for the 3-month period
Access to online videos and guides
All for FREE and with absolutely no obligation to purchase at any point.
This initiative hopes to invigorate teams that are remote working, keeping their motivation high and driving the right sales behaviours. By giving leaders the tools to rapidly set up and run sales competitions we hope to help businesses stay productive, keep strong and move forwards.
"It's a great privilege for the entire team to be able to provide some solace, support and motivation during this difficult time.

We firmly believe that our businesses will weather this storm by staying nimble, supportive and connected."
Anthony Day, CEO, CloudApps.