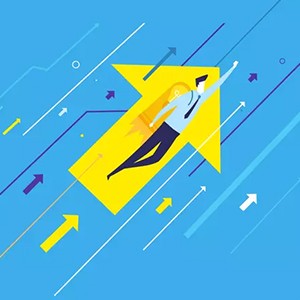 Fast Tracking Sales Success
Digital selling is different and the B2B buyer journey has changed, but the essence of sales success remains simple: performing the right sales behaviours at the right time. Enabling individuals to be productive and successful is key not just to meeting targets but also retaining valuable sales staff, prioritising the right deals and minimising the disruption associated with staff loss. New AI and behavioural science techniques can rapidly identify and propagate successful behaviours across the entire sales team.
Rapid insight to accelerate change
Different sales people have different skillsets. To transition effectively and successfully to new B2B sales behaviours, businesses need to look closely at individual activity, which can only be achieved if businesses stop thinking revenue is the only measure of sales success. This blunt approach fails to distinguish between good and bad deals, and it does not provide any insight into those sales behaviours that are delivering business value.
This is where AI and behavioural science enabled sales intelligence tools are completely changing the game for sales teams keen to accelerate the adoption of digital skills. Mapping revenue against behaviours highlights those top salespeople who are following the right behaviours, including selling to the priority customers. It reveals the mavericks who are creating potentially serious business problems by offering deals that cannot be fulfilled. And it identifies the people who are doing all the right things but failing to achieve the same level of success as the top performers. These people will most definitely benefit from mentoring or specific sales training to improve their conversion rates.
Fast track new starters
With tools that deliver real-time insight, there is no need to wait six months to uncover if an individual is struggling to adapt in a new sales environment: if someone is failing to embrace the right sales behaviours at the right time, it's obvious and the business can use this knowledge to tailor training, coaching and support.
Sales intelligence tools are also transforming the speed with which new starters can deliver business value – a process that improves their confidence and reduces the risk of staff churn. Using gamification and behavioural nudges as they use the CRM – loading opportunities or field selection, for example – is proven to get new sales reps contributing to the business in less than half the time.
Better employee life
Every B2B business is now focused on retention – and that means investing in the B2B sales team. Good people need to be nurtured; the less good empowered to be better. The B2B sales process is more nuanced than ever and that means organisations require a far more detailed understanding of what works – for both sales individuals and the business.
By supporting salespeople with the right sales intelligence tools, businesses are not just improving performance and hitting revenue goals; they are changing the salesperson's day to day experience. Individuals can hit targets while working fewer hours, they can embrace flexible working hours and benefit from a more balanced and all round productive life.