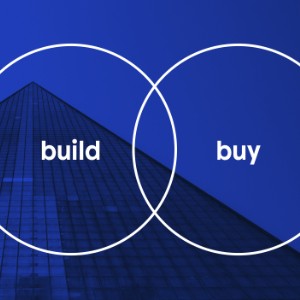 Enterprise AI Platforms – The Pros & Cons
Build vs buy is a conundrum that all businesses will come across when they need to fulfil a technological requirement in the organization. So, naturally, this also applies to artificial intelligence sales effectiveness platforms too. But a
ccording to Gartner 85% of all AI projects have a high likelihood of failure. 
Points For Consideration
The Classic: We should build one, right? It's what internal stakeholders always say at first. Why spend money on an expensive third-party platform when we have the resources to build internally and do everything we need.
To what extent is sales effectiveness driving your business?
Weigh up all options!
Time to market

Cost of ownership

Technical and data science resources

Ongoing improvements and maintenance

Security and privacy

Vendor expertise
Data Strategy:
Many companies can spend years maintaining custom-built platforms and still be dissatisfied with the results.
A key question for decision-makers to consider is which is more important: the AI model itself, or how long it takes to get actionable insights from it?
If timely insights are what matters to your business, you don't necessarily need to build custom data AI systems, and you can consider a vanilla out-of-the-box AI platform.
A lot of organizations see data scientists as the driver for change but, in most cases, it's the enabler to support a higher calling for your data strategy. And having a sound data strategy is becoming increasingly important; either creating one or revising existing ones in line with how much change we have seen in the AI market recently.
In both cases, this strategic focus on your data will provide direction to your data roadmap, answer questions as to what to do and how to enable your data strategy, including what needs to be real-time enabled and what doesn't, are you better off with a pure-play AI platform or should you build your own?
It will also dictate what kind of team you need to support this ongoing; what will your use cases be, so you can test solutions and so on.
Having a data strategy enables you to ask the right questions as you look to adapt and optimise your data solution rather than building or finessing it first, and then discovering it can't support your data strategy.
How much time do you have?
Unfortunately, in today's competitive business environment, everything requires quick execution, as well as the ability to deliver great customer service and inside sales effectiveness. And an AI sales effectiveness platform will give you a huge head-start.
A case in point is a top telco company automating sales effectiveness to unify data from multiple databases and did that within a few hours. Once that data was unified, it only took them a week to create an individual, team, and department complex sales OKR performance boards using key behavioural attributes and quickly scale up across several geographies.
However, if you have the luxury of more time to invest, you can consider building your own solution knowing that you'll be required to build integrations with other platforms for data collection and sharing profile data with other applications; you'll also have to maintain these point to point integrations.
Time to market
Third-party AI platforms, such as Cloudapps, have pre-built connectors that are fully managed, meaning you can connect to your existing systems within minutes, rather than spending weeks or months building these connectors. 
Building connectors seems straightforward but is a lot more complicated than you first think. 
You'll need to consider authentication and security. What data formats do they return? What structure is the data in when you get it from the source? How does that data map to your data model? What happens if that data source changes its export model? How would you manage that change without it breaking everything?
An AI platform like Cloudapps has other ways to connect to your system as well as out-of-the-box connectors, such as APIs, SDKs, pixels to track campaign behaviour, and batch loading? using CSVs or JSON files, and making sure all of these are fully integrated into the platform to make data available in real-time.
Cost of ownership
It's easy to assume only in terms of development cost vs purchase cost for a new system. 
What about hiring and staffing; infrastructure costs; are you going to benefit from economies of scale; platform design; implementation and setup; training; customisation; data migration; downtime of the platform; upgrade and maintenance; security; hotfixes; help desks; then your ROI and speed to ROI. 
Those are the types of software engineering factors that need consideration rather than simply employing a couple of developers to build everything from scratch.
Technical and data science resources
When building an in-house AI platform, you need to make sure that you have the right technical skills that deliver what you want; that it never goes down, it scales with your needs and has the security that your infosec team require, such as ISO 9000:2001, soc 2, GDPR compliance, and more.
And the more data you decide to bring in, the more data scientists you require, and the stronger the talent needs to be. Data scientists are hard to find, so you would need to plan ahead if you are looking to build the platform yourself. 
Cloudapps, on the other hand, comes with very strong data science capabilities that are fully built into the platform, so you can start building models without the need for data scientists.
Also, if dealing with enormous amounts of data is your issue, a third-party platform like Cloudapps AI receives in excess of 2 million records per second and has over 100 million records being managed – all performed natively on the Salesforce platform so infosec issues are managed by secure cloud platforms.
You can quickly and easily connect all your data sources and unify that data to analyse and gain insights and intelligence, access and activate that data and pass that data to your business systems.
Ongoing improvements and maintenance
Building in-house means you'll need to ensure code maintenance. This requires more than one person. We've all experienced situations where an employee resigns and leaves the company with nobody understanding how the code works, which stalls any plans you have for enhancements.
Are you going to be doing strategic enhancements on the platform, or is your team only going to be able to do reactive development, effectively doing what they are told? The area of AI-Augmented Sales Intelligence is moving so fast that all areas of the business are asking for enhancements.
Cloudapps receives hundreds of feedback comments from its customers, all asking for enhancements; so, effectively, when you purchase a third-party AI platform you are benefiting from the 'wisdom of the crowd'. 
Do you have a dedicated team maintaining the infrastructure? You need to have people monitoring it 24/7, 365 and have cover for holidays and sickness. You need to have people to make sure the system is up 100% of the time and has no issues at peak loads. 
Lastly, you need to make sure your data is secure and compliant. Are your systems protected against attacks? Are you sure your data is compliant with GDPR and other data regulations? You need to ensure that you're not sending your data to downstream systems if you don't have permission to do that.
Security and privacy
Delving into security and privacy requires more in-depth consideration, as the issues are very complex.
Where does your identifiable data come from? Did your customers opt-in to share their data? What does the data tell you? How is the data being used or shared? And where is the data stored? This mostly relates to Personally Identifiable Information (PII) meaning all of your GDPR compliance and CCPA and other data regulations too.
Liability insurance is another factor to consider, just in case you have a data breach and need to pay a large GDPR fine. 
Then the upkeep of your systems requires persistent penetration testing.
A third-party AI platform is built completely on the cloud. For instance, Cloudapps AI for CRM is built natively on the Salesforce platform, thus piggy-backs off its cloud-based security architecture. Apart from that, Cloudapps has financial institutions using it which require some of the most stringent security requirements of any sector, so we have continuous penetration testing to ensure security.
Cloudapps Vendor Expertise
Cloudapps is the world's leading AI sales effectiveness and accuracy technology. Furthermore, it's the most advanced AI for CRMs in the market with all its co-founders having had a hand in building the Salesforce AppExchange back in 2004. 
This powerful experience building on the Salesforce platform and CRMs in general, has facilitated some great collaborations with global enterprise businesses ranging from verticals such as insurance, telco, tech, finance, energy and many more. 
With 10 years of experience in delivering solutions without any customer churn, Cloudapps continues to see rapid growth. We have a global footprint with organizations around the world. 
Cloudapps is an independent best of breed platform and can connect to any CRMs with over 200 pre-built connectors across 15 categories which include media activations, marktech, CRMs, offline systems, and more.
We offer interoperability with different business intelligence stacks such as Qlik, Tableau, Salesforce's Einstein, Power BI, etc, and can custom-build different types of outcomes such as OKR boards.
Our ability to handle lots of different types of data helps us fulfil not only sales effectiveness use cases, but also deliver analytics to other departments including product development, customer service and more.
Overview:
So should you build or should you buy?
Time to build: the average for in-house DIY software is 10-12 months. 
With Cloudapps, everything is available on Day 1. Especially in Salesforce, it's a simple plugin.
Deploying business use cases: typically 12-18 months for a DIY approach. 
With Cloudapps, the average we've seen is 2-3 weeks across all our enterprise customers. 
Headcount investment: You'll need quite a large team to build and maintain the system. 
With Cloudapps we'll manage all the infrastructures. You'll simply need a small team for managed services. 
Scalability and agility: Very limited and expensive for a DIY approach. 
With Cloudapps it's infinitely scalable and no IT expertise is required as we manage all of that side of the platform.
Support: You'll need a very expensive third party team or manage a complete team for support. That's infrastructure, as well as code and security. 
But with Cloudapps, everything is included in the subscription costs.
Cost: Usually when people think of costs they think of a couple of developers building code. However, when you factor in the costs of the support team, infrastructure costs plus everything else, it can become very costly, meaning the time to return on your investment is delayed as well. 
With an out-of-the-box tool, you can get up and running very quickly without all the overheads of support, which becomes very cost-effective in the long run.
Features: it's much harder to build and keep adding features when it's your own platform. You'll have a limited code base, a limited number of people, and that becomes added pressure for the team to build and enhance. 
When you use a third-party tool like Cloudapps, which has dedicated teams who are use-case focused and continually adding features from their pool of customers – giving you the 'wisdom of the crowd' effect – you would be benefiting from other features that other companies have asked for that you may not have thought about.
There are certain circumstances where a DIY build makes sense, such as when your enterprise has a large number of subsidiaries. In this case, you may want to standardise things in-house and maybe go for a hybrid approach whereby you build in-house systems but also leverage an AI platform like Cloudapps, bearing in mind all of the pros and cons listed above.