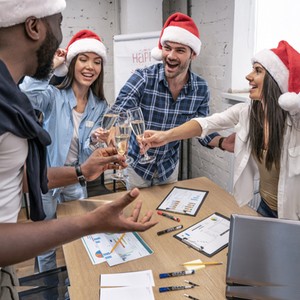 Christmas Sales Contests for Increased Productivity
Some fun sales contest ideas to boost productivity before the Christmas break!
All the bells and whistles of the season can often sidetrack our Sales targets – whether it's due to tighter deadlines or more OOO emails from our prospects – December has the habit of running away from us. Bah, humbug!
To help you refocus your team's attention and guarantee a solid close to FY19, we've put together some of our best sales contest ideas (all tried and tested by our customers!) that are sure to boost sales productivity before the year ends.
Below, you'll find guidelines to hosting successful competitions, interesting ideas for challenges to test out and a list of original gifts to regale your cherished sellers.
Go on, make this the most wonderful time of the year…
6 Creative Sales Contest Ideas to Increase Productivity
Before we get started, it's worth listing some ground rules to guarantee the best possible outcome.
All these contest ideas are meant to induce a quick spike in productivity. We're not trying to push more deal closures (although an increase in work rate will help that), we're only looking to create an impactful rush of activity.
So, don't try to boil the ocean.
Instead, pick out an area to concentrate on. Do you want more cold calls made? Or a bit of data housekeeping? Whatever the end goal, the key to success is clarity and communication. Be sure to keep rules simple and explain them clearly to the team.
Highly Targeted Sales Contest Produce Better Results
Keeping sales competitions short and simple brings about better outcomes, because:
1. It guarantees zero game fatigue:
The novelty of the competition gets reset every single day, keeping everybody focused and on their toes.
2. It gives everyone a fair chance:
There's nothing more disheartening than being bottom of the pile. Long competitions always tend to leave some players lagging far behind. These players find it almost impossible to reconnect with the target. Quick competitions like these, which are varied and short-term, will always play to somebody's strengths at some point. Every morning will bring a brand-new chance of winning.
3. It promotes best practices:
By getting reps to repeat a certain behaviour for a whole day, you're pinpointing best practices and giving everyone the chance for a much-needed skill refresh. As an added bonus, the positive outcomes that will result from said activities will likely get your reps to gladly adopt them in the future.
Alright, with that in mind, let the games begin!
6 Sales Contest Ideas to Boost Productivity Quickly
1. First Past the Post:
Here's an easy way to get your guys performing more activities, faster. At the start of the week give your team a numerical target they need to achieve by Friday (for example, 600 x 10-minute calls). If they achieve this target, they get to leave early on Friday. The quicker you reach the target, the earlier you'll get to go home* (get to the pub*)
2. The Sales Raffle:
A classic crowd-pleaser. Reps can collect a raffle ticket each time they perform a desired behaviour (added a secondary contact to account, updated meeting notes, etc) Host a big raffle on Friday afternoon with a few prizes of different values. The more raffle tickets you have at the end of the week, the bigger your chances to win!
3. A Round of Sales Poker:
This one is sure to keep your sales guys on their toes all week long. Break out the week's goal into daily activity targets each sales rep should meet by the end of each day. If they achieve it, they get to collect a card from the deck before they go home. At the end of the week, all cards are revealed. Salesperson with the best hand wins.
4. Hit The Snooze Button:
This one is completely inexpensive but has attached to it the very motivating factor of peer acknowledgement. Whoever hits the day's quota first, gets to come in later the next day. It may seem like a very simple concept but the act of walking into the office later than everybody else will put a smile on your winner's face and remind the rest of the team to strive to hit their quota early that day.
5. Time to Buddy Up:
One to reinforce collaboration and implement light coaching into the team's dynamic. Pair up a high-performing rep with a lower-performing rep and set them a combined sales goal they must hit by the end of the day. It will only count if the target is met by both parts equally. The high-performing rep will hate the idea of possibly losing so will push the low-performing rep to work at top speed. In turn, the low-performing rep will pick up some important tips from the more successful peer.
6. The Surprise Gift:
A lighter version of the already mentioned raffle. Fill a big box with a mixture of goodies (these could be simple things like chocolate bars, gift cards). Place said box at the front of the office. Every day, the highest achieving team member gets to come up to the front and select a surprise gift. No matter how small the prize, the act of being publicly rewarded like this will create a huge boost in rep morale.
And there you have it, six very easy, very fun contest ideas that will help you spike up productivity and combat the slump of the holiday period.
You can find another 11 sales competition ideas here!
25 Perfect Christmas Gift Ideas for Salespeople
Christmas is the perfect time to show your team how much you appreciate all their hard work. The list below should serve as good inspiration for prize or incentive ideas for any of the sales contest above or simply as a nice token to say 'thank you'.
Show your sellers a little love with a thoughtful prezzie from the list below.
Ask your team to choose the restaurant where you'll celebrate the Christmas party
Send handwritten letter of thanks to home address to share with family
Voucher for Christmas lunch grocery shop
Mobile car wash delivered to their home
Luxury food hamper
Christmas tree or Christmas decoration delivered to their home
Tickets to a show over the Christmas period
Cinema tickets to be used during a working day
Signed Christmas card with lottery tickets inside
Upgrade team's technology devices or office space
Send employees on work-related training course of their choice
Personalised briefcases, laptop sleeves, portable coffee cups, notebook
Wireless headphone set
Massage or Spa Day for two
Subscription to Fitness Centre or Health Club
Subscription to book club, magazine membership, luxury beauty products, healthy snacks, etc.
Audible subscription
Upgrade to First Class rail travel
Flexible working for a period (flexible hours/ days or choose a day to work from home)
Set up a meeting with an influential individual or role model
Lunch with the company CEO or chairman
Allow employee to hand over one selected project to their manager (least favourite task or project)
Prominent parking spot allocated for a month
Dedicated office for a week
Additional hours allocated for foundation (not-for-profit / charity) activity

But wait, there's more!
Fancy giving a sales contest a go this Christmas? Help yourself to our tried and tested Christmas Competition – in this download you will get:
A Christmas themed levelling system
An activity boosting challenge
A Communications Plan strategy to keep your reps engaged for the long-haul