McKinsey Places Science at the Centre of Sales Transformation
McKinsey agrees. There is a science to selling…
A recent article published by McKinsey places data and analytics, combined with personalised performance management, at the centre of sales transformation.
"In a world where change happens quickly and answers are rarely clear, a dynamic approach grounded on testing, learning, and adapting is the only one that consistently works."
Sales leaders frustrated by the complexity of scaling growth should adopt a scientific approach – one that is deeply rooted in data and agile enough to react quickly to its trends – to meet their targets.
Combining automation with personalised coaching strategies and focusing on middle performers as a means to gain the greatest achievable upside, is also advisable to businesses pursuing sustainable transformation.
"Relying on technology to drive the change alone, however, is a mistake. For change to stick, managers need to provide sales reps with personalized coaching, often supported by analytics that highlights performance challenges, as well. The best managers focus on "micro-interventions" to coach their people with feedback as needed, rather than waiting for more formal regular review sessions. The key is making sure all this coaching is done with the same level of scientific rigour as the rest of the transformation by focusing on the areas of greatest value."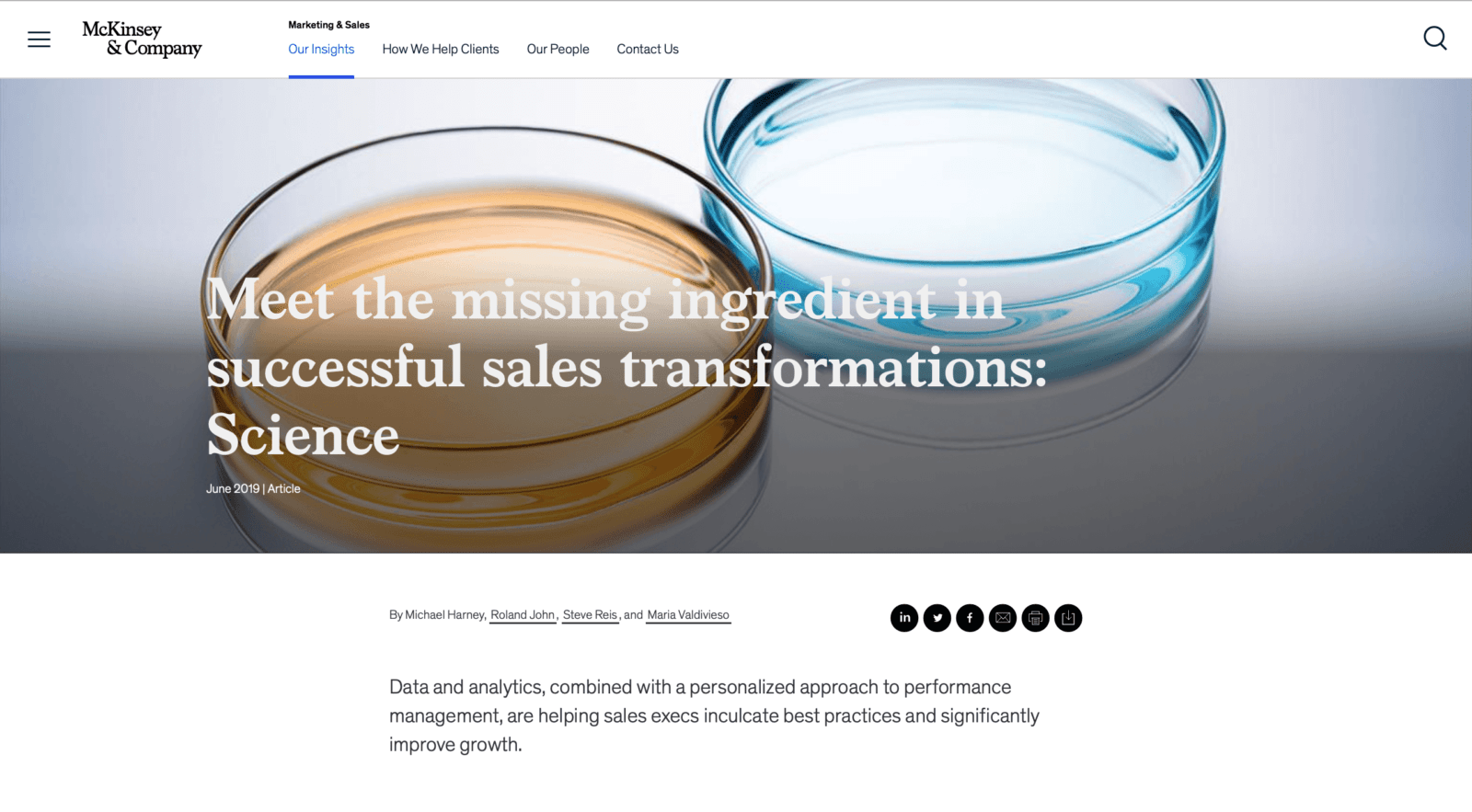 This article rings true to us here at CloudApps.
Against the common performance hiccups suffered by large sales organisations, we've always prescribed focusing on behavioural data as a means to create change and attain meaningful growth.
By identifying and influencing high-value sales behaviours exhibited by the sales team – with a special emphasis on core performers – our customers are able to discover gaps in the sales process, skill deficiencies within the team and early warning signs of attrition in the pipeline.
It's detailed insight like this one that allows project leaders to manoeuvre the complexities arising along the way.
"A robust performance-management system is the beating heart of a sales transformation. It helps set the direction, establishes clear metrics, tracks performance, enables recurring dialogues, incentivizes desired behaviours, and helps managers continuously act to improve outcomes. The problem with these systems, however, is that their insights are backwards-looking, and the time between their delivery and action taken based on them can be long."
By instilling an empirical, almost engineering attitude towards sales, we can start to plan our next steps with the sound knowledge of what should work and what wouldn't.
Being able to unequivocally pinpoint which actions and instances were successful in the past, will undoubtedly set better foundations for the future.   Allowing ample wiggle room for nuances on a case-by-case basis.
McKinsey signs-off the article with this adage:
"Sales transformations aren't new. But by understanding how to use data, analytics, and the personal touch, sales leaders can drive change that matters and sticks."
And anything outside that… is hearsay.
Subscribe to Blog